Horse For Sale
At Havana Horses we breed an Indonesian all round sport horse; the strong and hardy Indonesian pony crossed with the Australian and New-Zealand Thoroughbred, suitable for trail rides and trekking, dressage and jumping. On principle our horses are not for sale. However, if you can offer a caring and horse friendly home, do come over if you are interested in one of our healthy, well-behaved horses.
Meet our Horses
Our horses are of local breeds (Sandalwood, Sumba) crossed with Australian or New Zealand Thoroughbred, all born in Indonesia. Our robust horses have different personalities and temperaments but in general are friendly and sure-footed.
Alysee Chestnut mare (2010), Selle Francais / French Warmblood.
Her French owner Franklin shipped her all the way from France to Havana Horses so that now he can visit and ride her whenever he wants, while Alysee lives a healthy herd life. Having received a tough training in France she needs to cope with quite some resistance, both physically and mentally.
April Chestnut filly (28 April, 2016), Fitri x Jasper
What delight! Our pretty little mare Fitri, born at Havana Horses in 2008, gave birth to her second foal. A tremendously pretty filly, and just as energetic as her mother!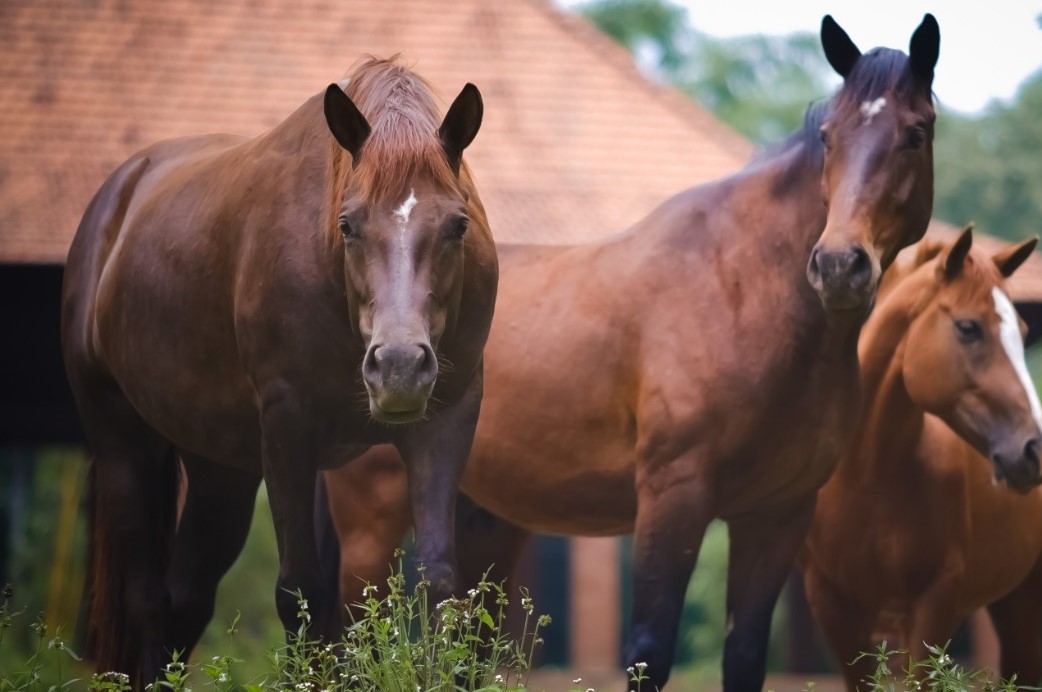 ChaCha Dun palomino mare (2007), Indonesian Sumba pony.
ChaCha is cheeky ChaCha! The owner of ChaCha decided to board her at Havana Horses to enjoy natural herd life to become fully healthy and strong, before she will move to her new home in Spain.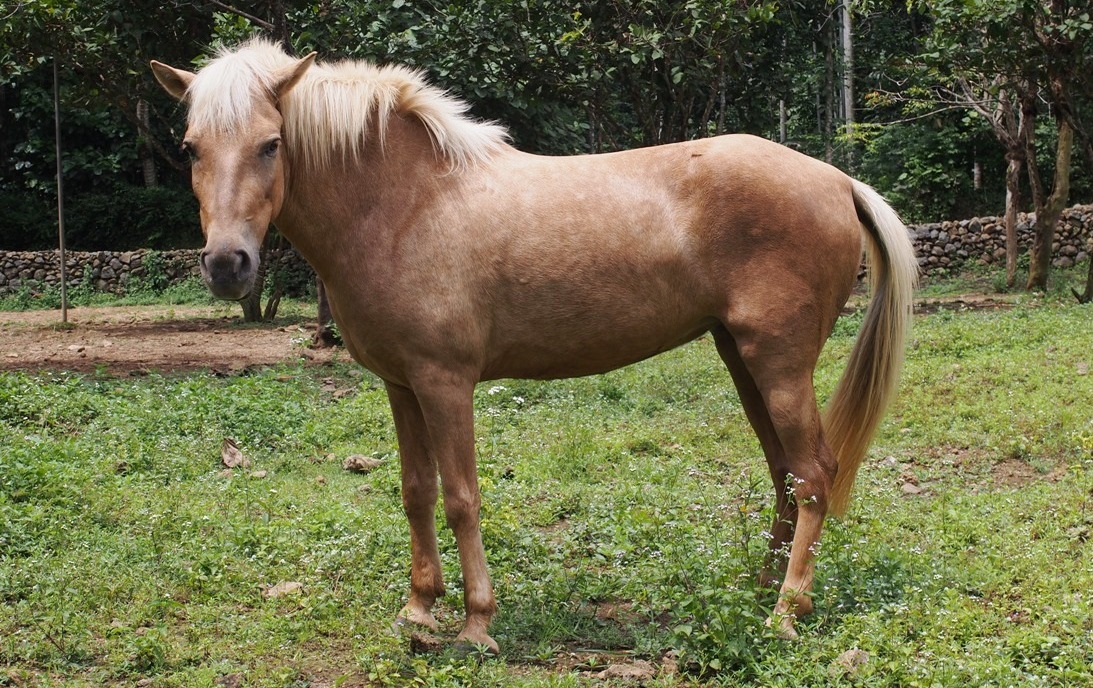 Chika Tobiano mare (2014), Indonesian pony.
Chika's owner, our young student Naila, is very happy with this sweet and pretty pony! Having received a thorough training of ground work, work in hand and longeing, now Naila can ride her temperamentful Chika!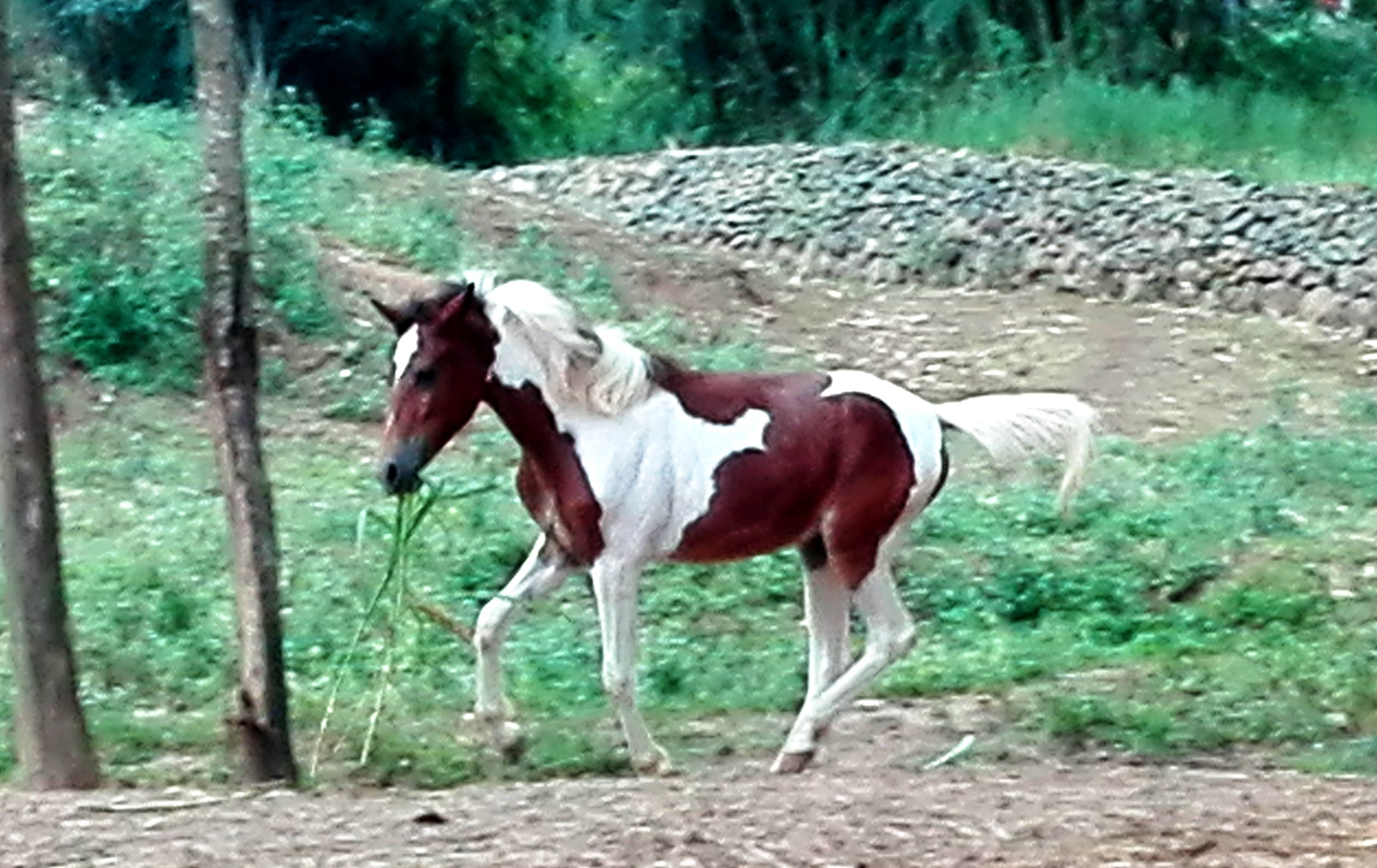 Choki Smokey black gelding (2014), Local TB.
Choki's owners have a beautiful strong bond with this strikingly handsome gelding. Being just 3 years old we give him enough time to mature. However, he already loves the work on the ground and he is such an eager learner!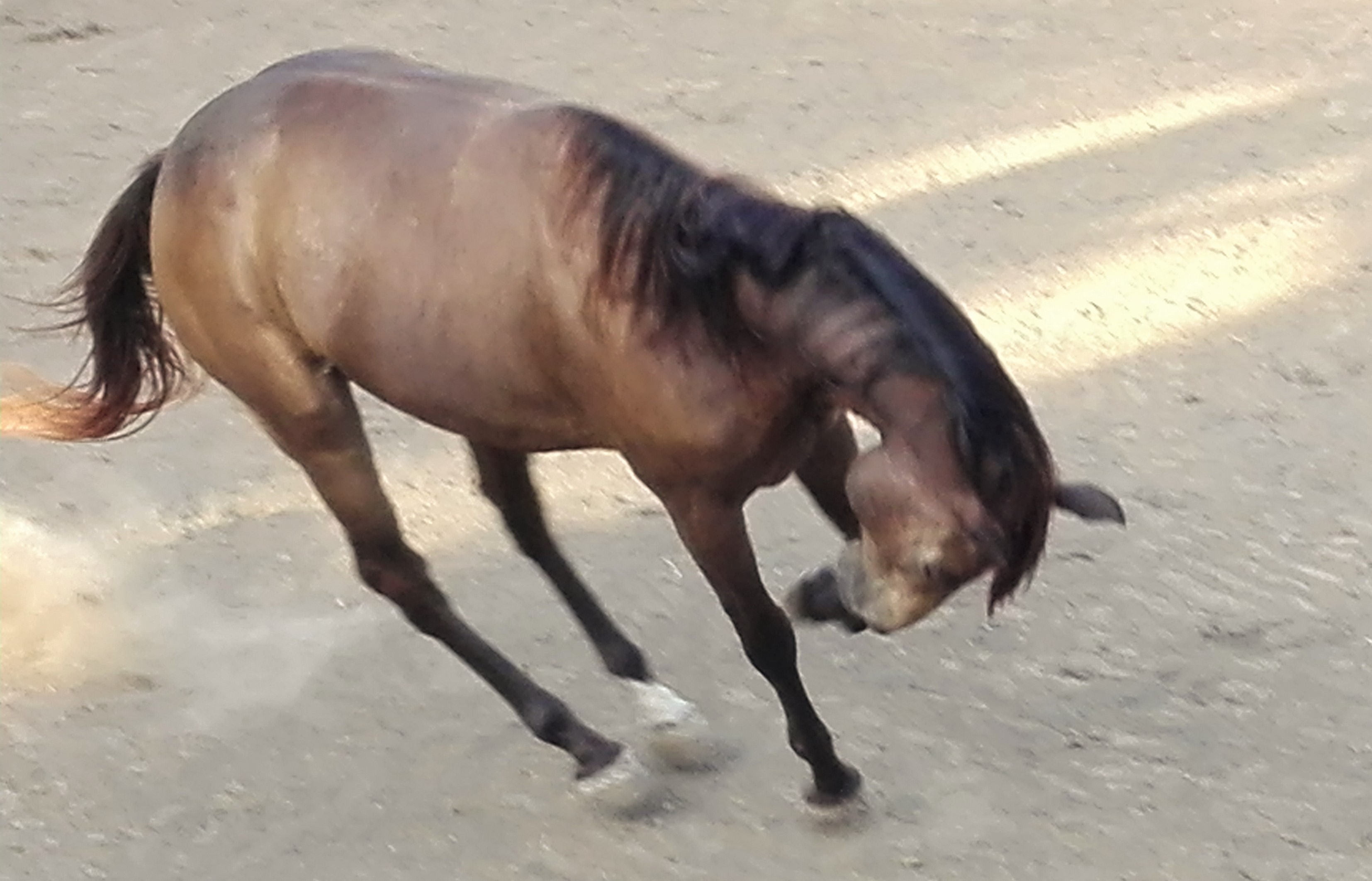 Donovan Grey gelding (April 14, 2006, passport), Local TB.
He came to live with us when he was one month old and since then has given us quite some food for thought and valuable lessons, being a very clever and sensitive, but also a very strong minded and dominant horse. Now that he is maturing he turns out to be a very good and agile riding horse. When motivated, he is giving so much!
Fitri Chestnut mare (September 23, 2008), Sandalwood Super Emas x Local TB.
Our first born in the herd at Havana Horses, Fitri has grown into an independent, clever and sensitive mare, incredibly energetic and light on her feet. Fitri knows how to carry her body with balance and pride. Moreover, she is a great teacher as she loves to connect with people. How she takes after her father!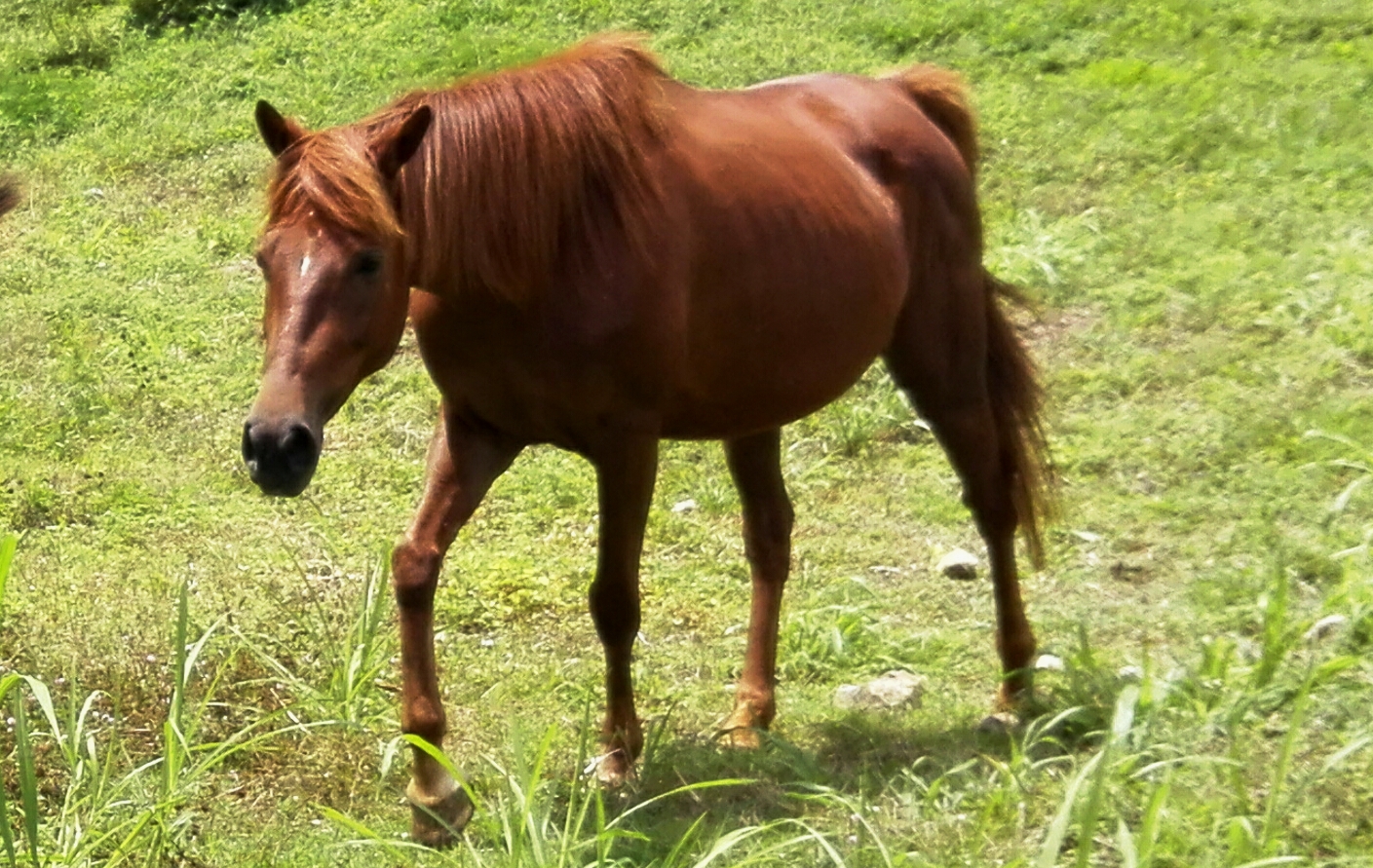 Foxy Chestnut colt (September 17, 2017), Local/TB.
Although he wasn't planned for, we are absolutely thrilled with this confident and sturdy little fella, April's little brother, and Super's third grand child!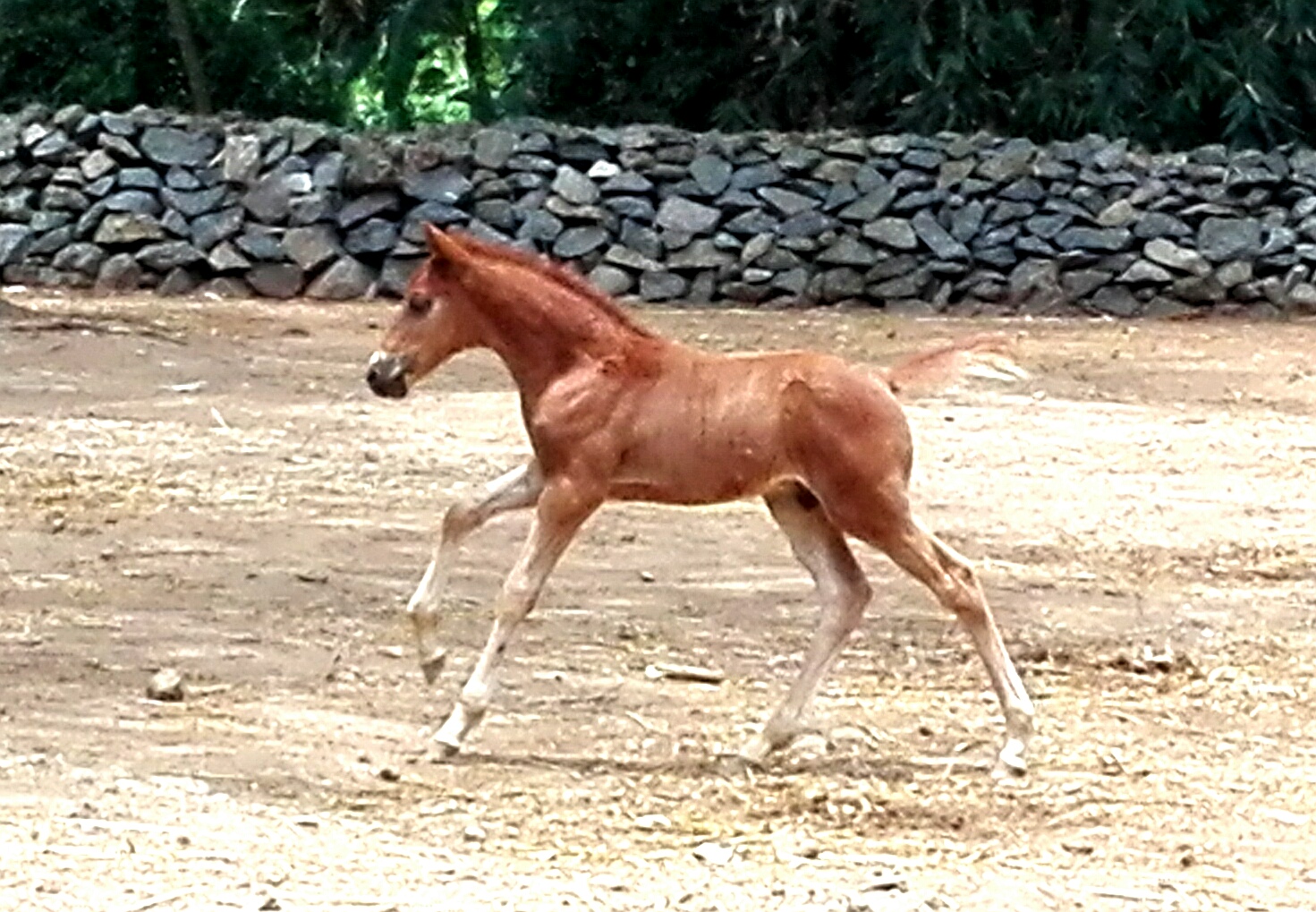 Jasper Bay gelding (2012), Local/TB (5th generation).
With his 5 years and 162 cm height this young boy is growing fast into a tremendously handsome fella! And he has even become the proud father of our recently born foals April, Lorenzo, and Foxy. He is one of those people-oriented horses; willing to work together and ready to carry a rider, with pleasure! Ah, how his sweet and soft eyes just seem to promise you the world...!
Jujur Chestnut/bay gelding (2010), Local/TB.
Jujur is an ex-race horse with tremendous stamina. He still loves to go fast but is very responsive and easygoing at the same time. His straightforward character inspired us to give him his name, meaning Honesty!
Lorenzo Bay colt (May 13, 2016), Indonesian TB, Micha x Jasper.
Lorenzo, the most handsome foal we ever had, is now already a yearling!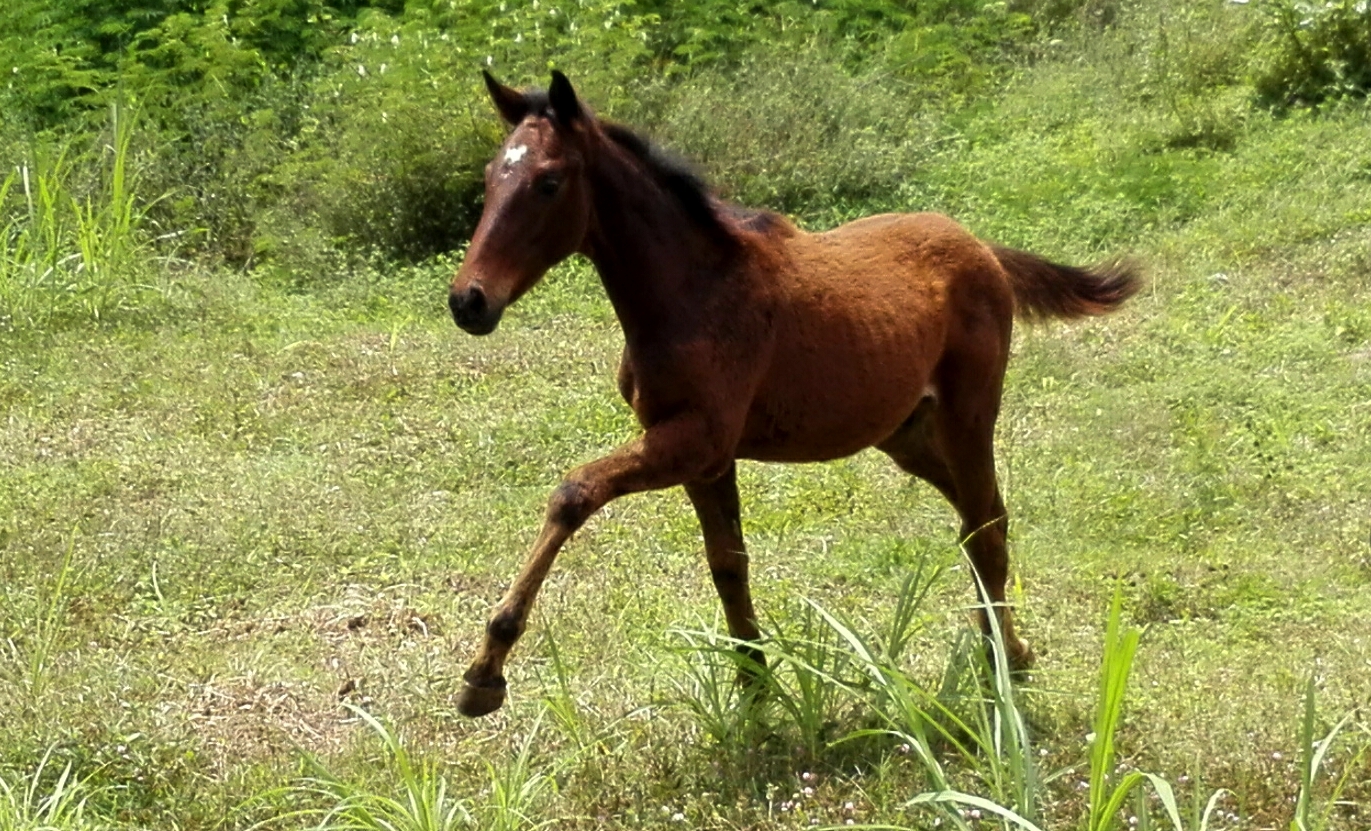 Lucky One Chestnut gelding (2009), Indonesian/Warmblood.
His previous trainers gave up on him, as he was "unmanageable" and "untrainable". Luckily his owners didn't want to give up, and they sent him to Havana Horses for a second chance! And after gaining his trust back and letting go of his fears, now he is in blossoming condition and he appears to be a super riding horse, with wide gaits and a lovely forward going character. We are sure that Gia, his committed owner living in Jakarta, will love to ride him - the natural way!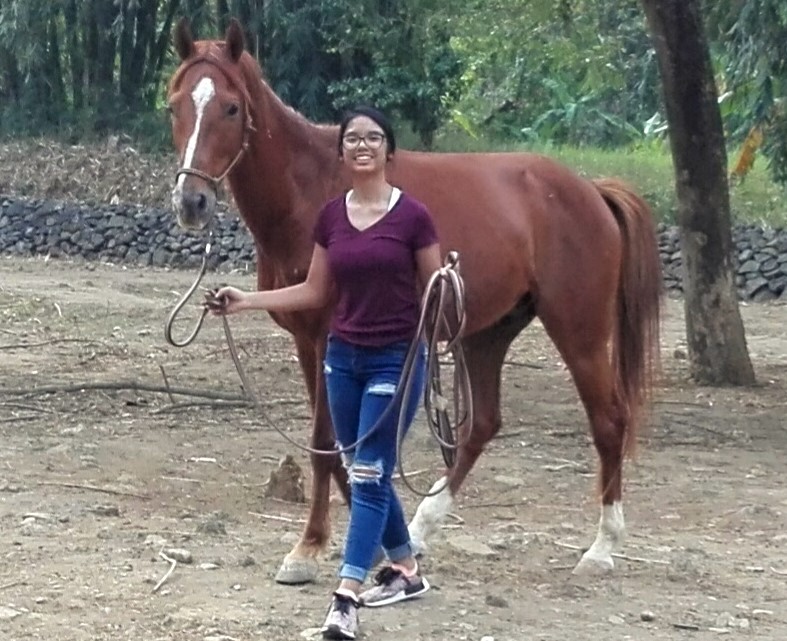 Matahari Chestnut mare (Nov 8, 2008), Indonesian TB/Quarter.
This stunning beauty, although having had a bad start coming from a traditional stable where she lived in a box 24 hours a day, now has grown into a well-balanced riding horse. Because of her confident character and sense of responsibility she has become the lead mare of the herd. Her striking charisma is a joy every day! In August 2014 she became the proud mother of Yente, with Jujur as its sire.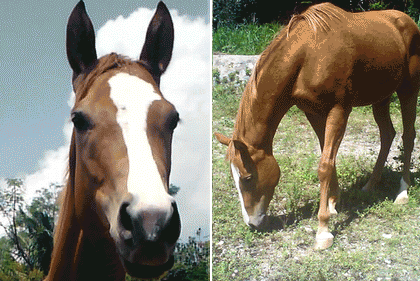 Micha, Brown mare (2006), Indonesian TB.
Micha is an ex-race horse with quite some damage done mentally and physically during her racing career. However, she is also the proud and gorgeous mum of Mina and Lorenzo! Her faithful 'boyfriend' Donovan you will always find by her side.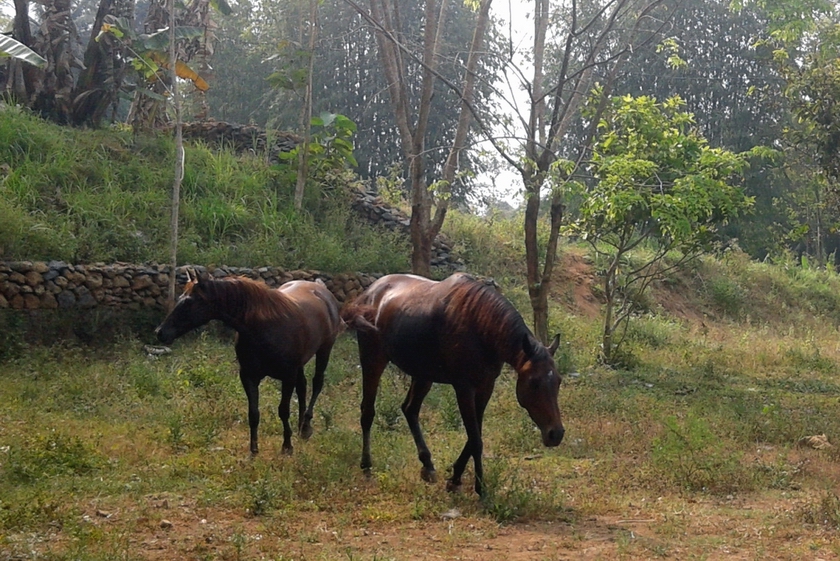 Mina, Brown mare (2013), Indonesian TB.
In the meantime Mina has turned 3 years old and we are slowly and carefully starting ground work and work in hand with her, and she is doing great! What a gorgeous mare she is!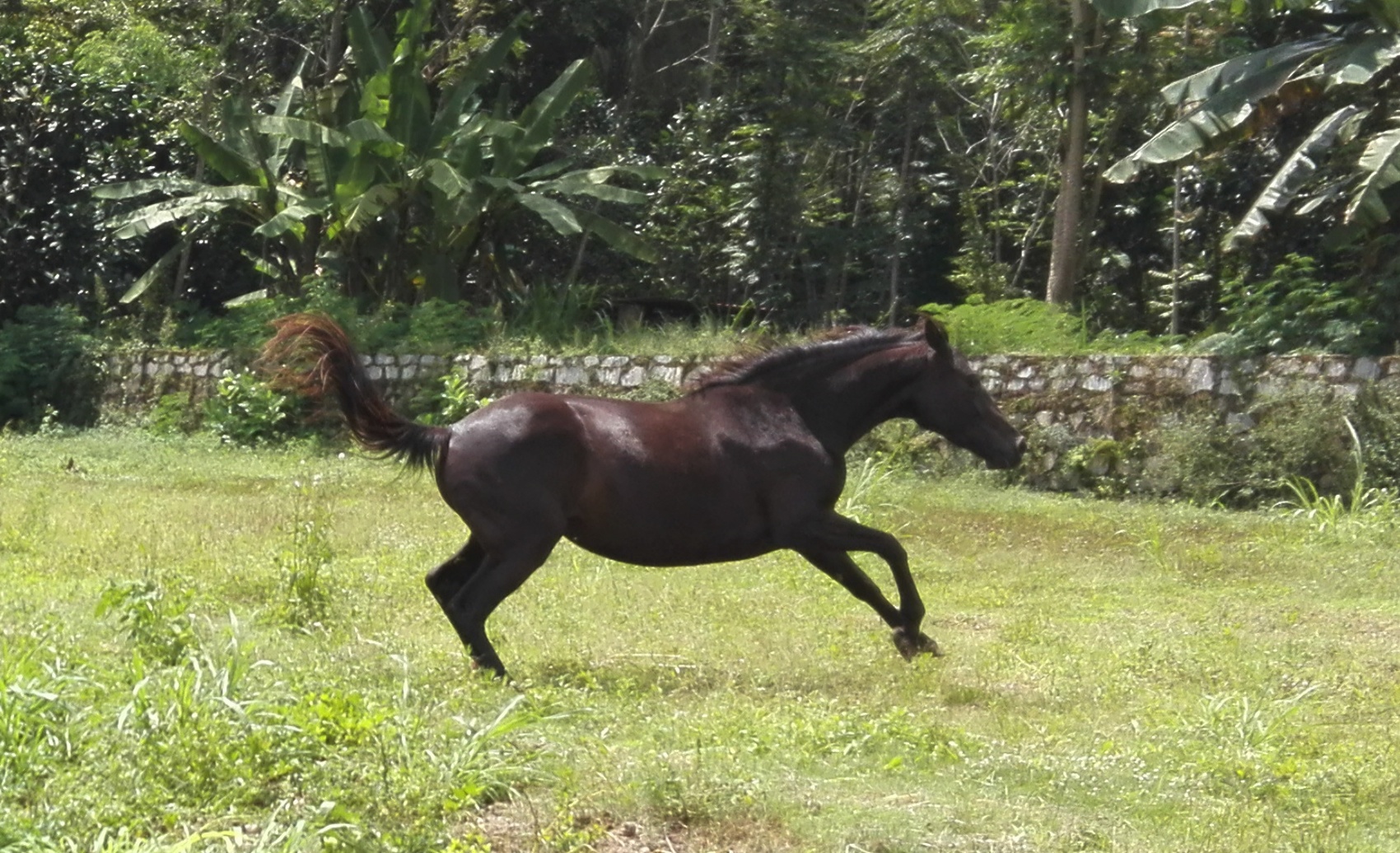 Prima Darko Chestnut colt (September 2, 2014) Fitri x local TB (3rd generation).
Prima, now three years old, is a wonderful, strong little colt born out of Fitri, making Super Emas a proud grandfather! People say that his facial markings - a snip combined with a star on the forehead - indicate good abilities to jump. His well-balanced hoofs indicate how wonderfully well-balanced he moves!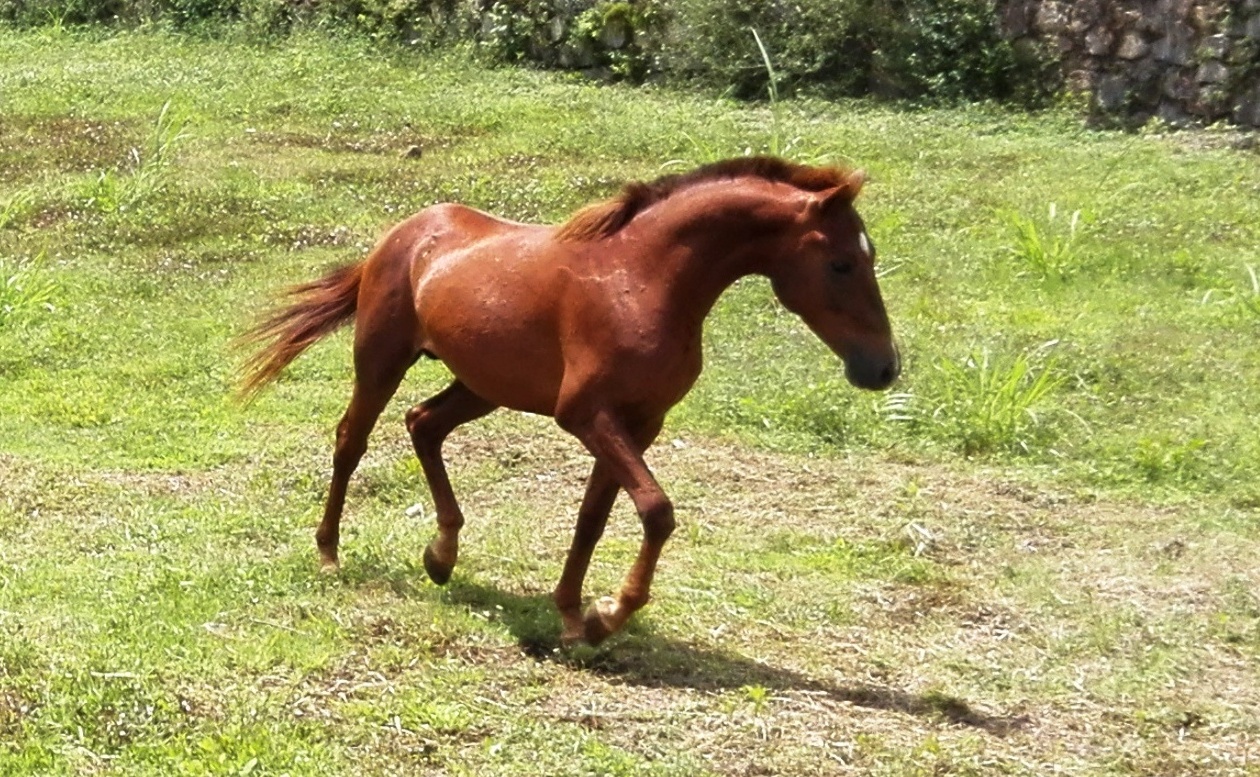 Rangga Silver taffy gelding (2008), Sumba/Sumbawa.
Rescued by JAAN (www.jakartaanimalaid.com) from a cruel death on the streets of Jakarta, Rangga has been adopted by Havana Horses to start a new life in optimal circumstances and good health. At the time when Rangga was rescued, he suffered from severe food poisoning causing acute founder, so painful that it was impossible for him to walk. With his delightful character, now he is in blossoming condition! Unfortunately his feet will never heal completely, but with the use of Easyboots, he nowadays can even join in a few lessons.
Rangga's upkeep is sponsored by our Dutch friends Jack van der Leden, and Martine Kempers. You can also sponsor Rangga and/or the Jakarta Animal Aid Network by making a donation. For more information do contact us.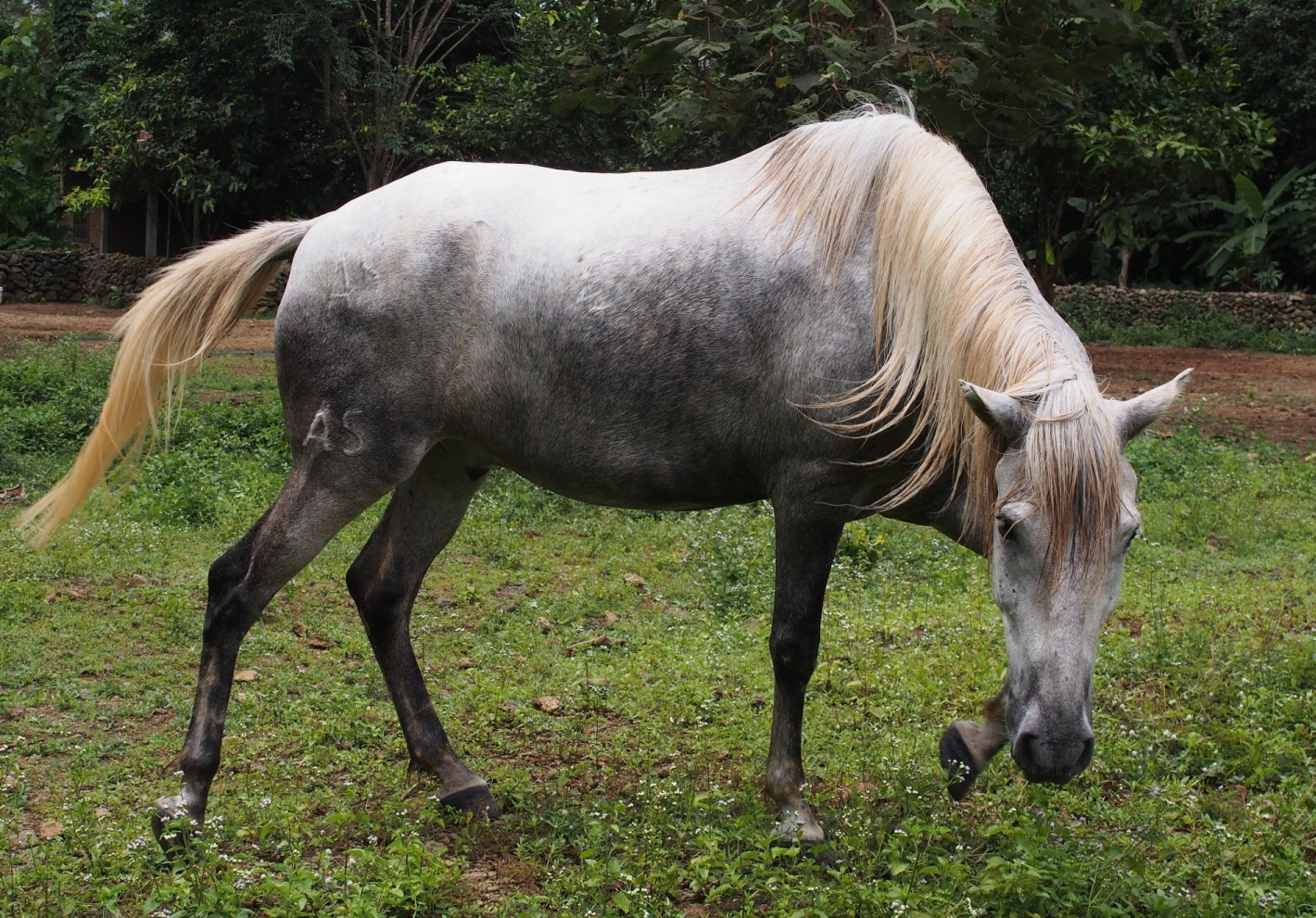 Sandy Bay mare (2010), miniature pony.
What a delightful pretty riding pony she is, clever and strong!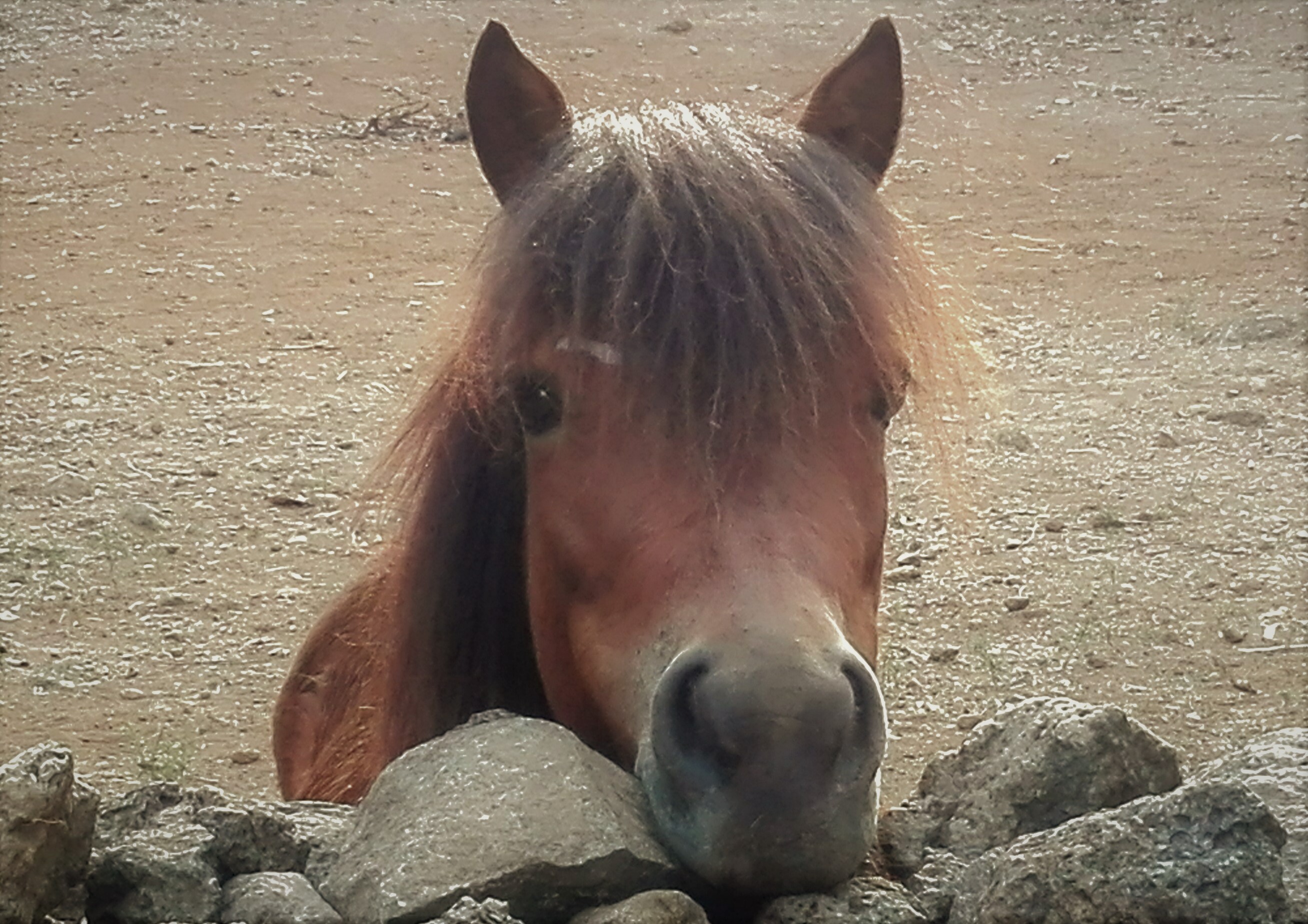 Super Emas Chestnut gelding (2003), Sandalwood.
We bought him all these years ago as a "Super Sandalwood", and when the sun shines on his coat it looks golden (emas); that is why we call him Super Emas. His happy, patient, forgiving and very clever nature ensured he was chosen by all our horses to be the indisputable lead horse of the herd. And now he is the proud grandfather of Prima, April, and little Foxy. Indeed is he our Super-horse!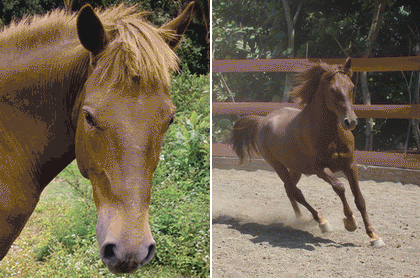 Yente Chestnut mare (August 9, 2014), Matahari x Jujur.
We are thoroughly delighted with Yente, the charismatic offspring of our own horses Matahari and Jujur! She was born in the paddock among the other horses and now is raised by all members of the herd to grow, both physically and mentally, into a healthy mare. She has got the charisma and confidence of her mum, the lead mare Matahari, and the open and straightforward character of Jujur, that we were hoping for!