Horse For Sale
As our horses are part of our family, they in principle are not for sale. But do come over and talk to us if you are interested in one of our horses and can offer a caring and horse friendly home.
Meet our Horses
Our horses are of local breeds (Sandalwood, Sumba) and some crossed with Australian or New Zealand Thoroughbred, all born in Indonesia. Our robust horses have different characters and temperaments but in general are well-mannered and sure-footed.
Darko Dark brown colt (2011), 4th generation New Zealand TB crossed breed.
Darko has an amazingly kind nature and knew how to behave in the herd right from the start. A lovely bond exists between Darko and Jujur; you will always see them side-by-side. We can hardly believe that Darko now is the young & proud father of Prima!
Donovan Dappled grey gelding (April 14, 2006), 4th generation New Zealand TB crossed breed (passport).
He came to live with us at the age of one month and now that he is mature he is turning into a very good and agile riding horse. When motivated, he is giving so much!
Fitri Chestnut mare (September 23, 2008), 3rd generation New Zealand TB crossed breed x Super Emas.
Fitri, born at Havana Horses, has grown into an independent, clever and sensitive mare, incredibly energetic and light on her feet. Fitri knows how to carry her body with balance and pride. Moreover, she is a great teacher as she loves to connect with people. How she takes after her father!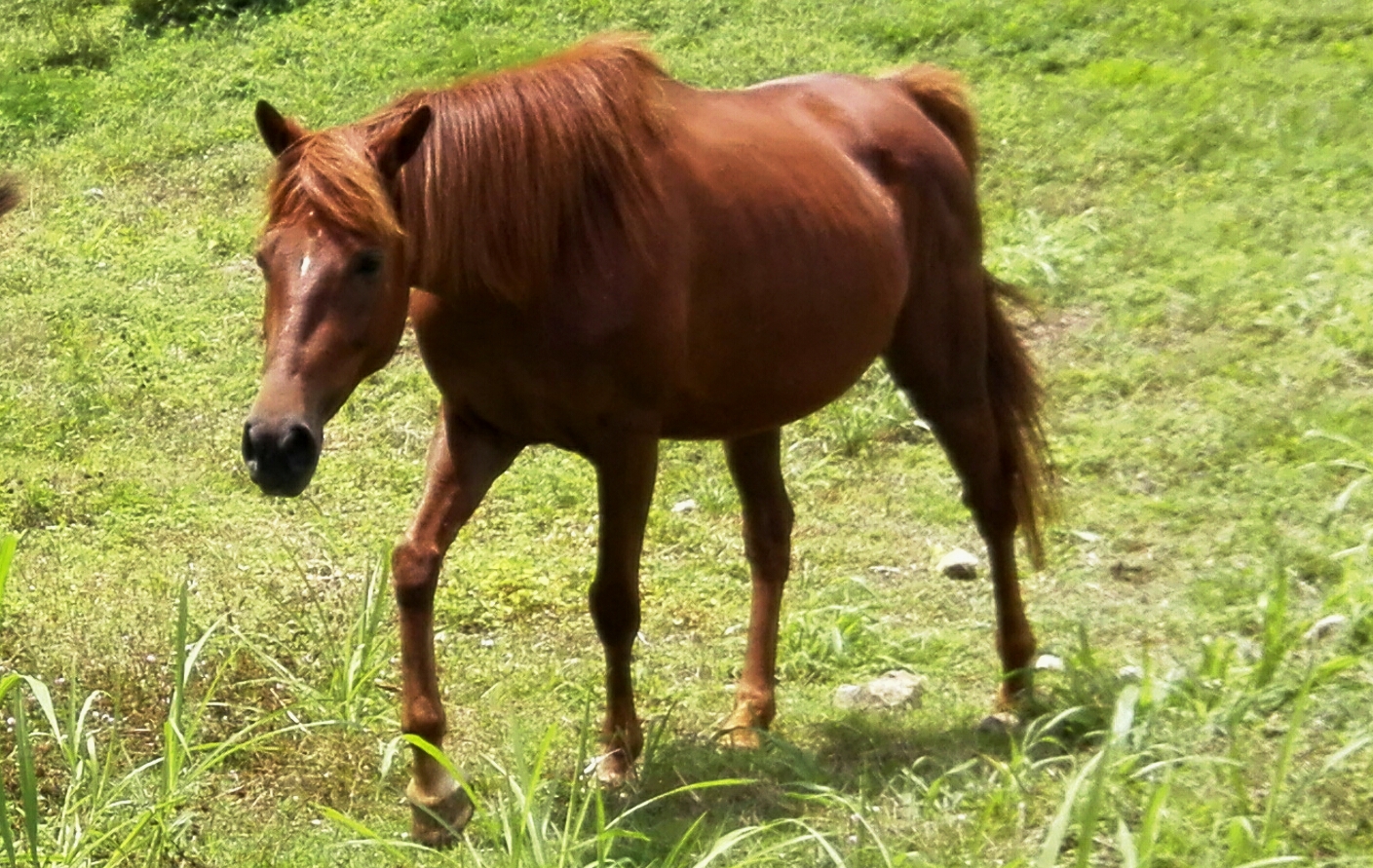 Jujur Bay stallion (2010), Local mixed with Thoroughbred.
His friendly and straightforward character inspired us to give him his name, meaning Honesty!
Maju Chestnut stallion (2012), Local mixed with Thoroughbred.
Coming from the sandy beaches in Yogya, his hooves needed some time to adapt to our hard and rocky paddocks. But now he is ready and eager to become one of Havana Horses' trustworthy riding ponies! And how handsome he is!
Matahari Chestnut mare (Nov 8, 2008), Thoroughbred.
This young beauty, although having had a bad start coming from a traditional breeder, has grown into a delightful and well-balanced riding horse at Havana Horses. Because of her strong character and sense of responsibility she has become the lead mare of the herd. Her striking charisma is a joy every day! In August 2014 she became the mother of Yente, with Jujur as its sire.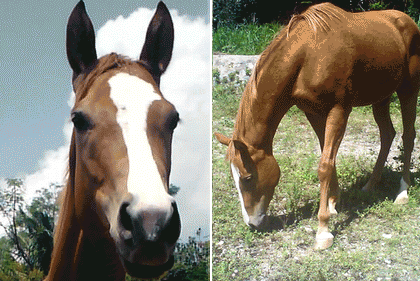 Micha & Mina, Brown mares, Indonesian Thoroughbreds.
Micha & Mina's owner Leena, living in Bali where space gets ever more fought over because of construction sites for villa's and bungalows, decided to send her two gorgeous ladies to Havana Horses to ensure they will have enough space and playground. Now Micha & Mina have 5000 m2 of paddock and many friends to play with!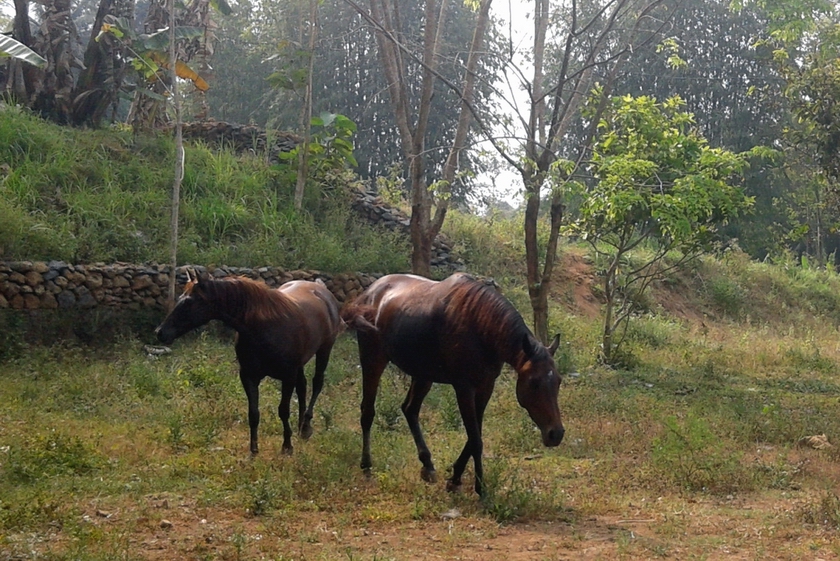 Prima Chestnut colt (2 September 2014) Fitri x Darko.
Tremendously happy we are with the birth of Prima, a wonderful, strong little colt born out of Fitri, turning Super Emas into a proud grandfather! Having little Yente to play with and growing up in a balanced herd, we are sure he will grow up to become a wonderfully balanced horse!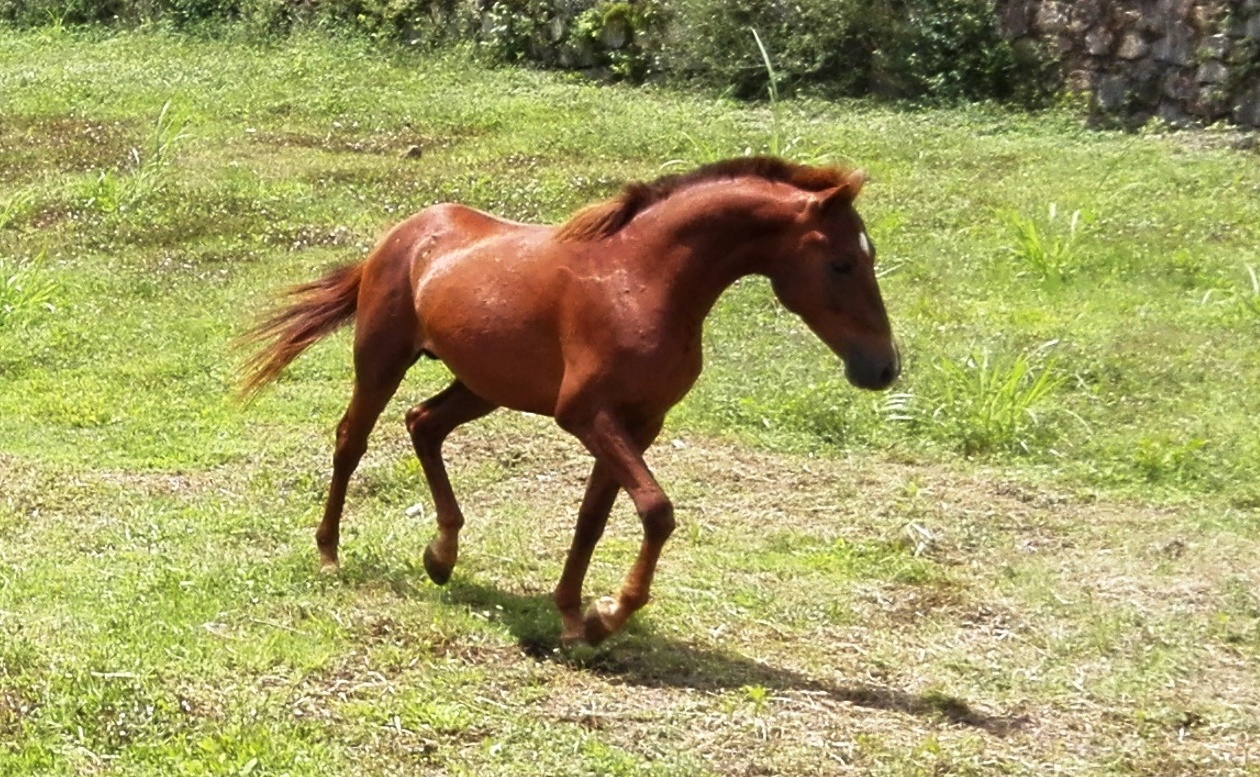 Rangga Silver taffy gelding (2008), Sumba/Sumbawa.
Rescued by JAAN www.jakartaanimalaid.com from a cruel death on the streets of Jakarta, Rangga has been adopted by Havana Horses to start a new life in optimal circumstances and good health. At the time when Rangga was rescued, he suffered from severe food poisoning causing acute founder, so painful that it was impossible for him to walk. With his delightful character, now he is in blossoming condition! As his feet become stronger and with the use of Easyboots, he is now turning into a trustworthy and happy riding pony.
You can sponsor Rangga and Untung and/or JAAN by making a donation. For more information please Contact us.
Super Emas Chestnut gelding (2003), Sandelwood.
We bought him as a "Super Sandelwood" and when the sun shines on his coat it looks golden (emas); that is why we call him Super Emas. His happy, patient, forgiving and very clever nature led him to become the lead horse of all Havana's horses. Indeed is he our Super-horse!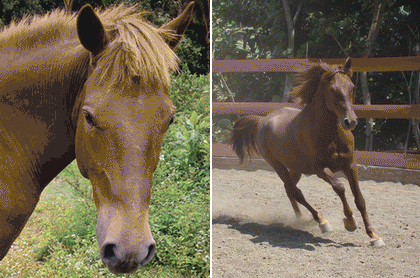 Untung Bay gelding (1985?), Sumba/Sumbawa.
Rescued by JAAN (www.jakartaanimalaid.com) from a cruel death by exhaustion and underweight when working as a carriage horse in the streets of Jakarta, Untung has been adopted together with Rangga by Havana Horses to start a new life in optimal circumstances and good health. Respectably aged, having seen it all before, Untung is amazingly sweet and incredibly patient with young handlers.
You can sponsor Rangga and Untung and/or JAAN by making a donation. For more information please Contact us.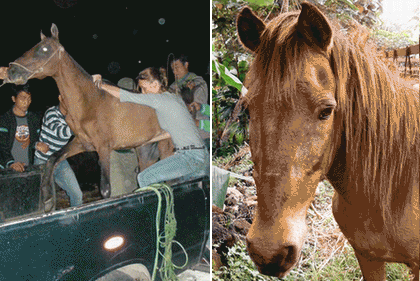 Yente Chestnut filly (9 August 2014), Matahari x Jujur.
We are thoroughly delighted with Yente, the beautiful offspring of our own horses Matahari and Jujur! She was born in the paddock among the other horses and now is raised by all members of the herd to become, both physically and mentally, a healthy little mare. She has got the confidence of Matahari and the open and friendly character of Jujur, that we were hoping for.