Facilities
Havana Veranda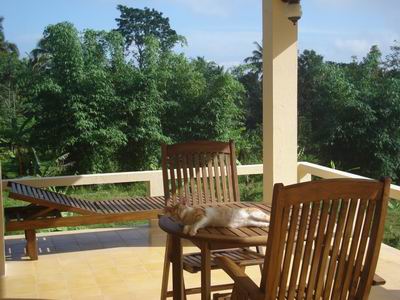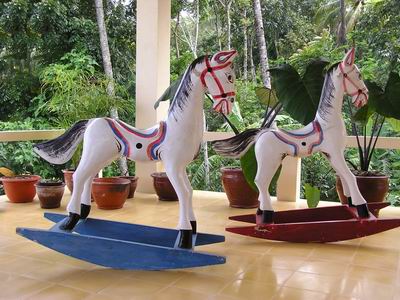 On our veranda you can relax as you watch an ongoing lesson or a freestyle training in the Picadero. Read a horsey book or magazine, take a cold drink, or just enjoy the green and tranquil surroundings.
Havana Tack Shop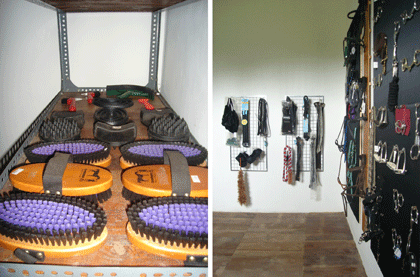 We sell natural horsemanship tack, lead ropes, sidepulls, helmets and riding gear imported from Europe and Malaysia.
Equine Spa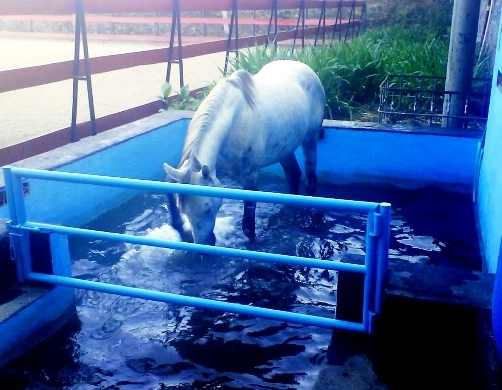 The therapeutic water in our Equine Spa contains a chosen composition of minerals and salts with cooling, disinfecting, anti-fungus and healing qualities. Tendons and hoofs heal while your horse just loves to be in the water! We charge Rp 20.000 for a bath of half an hour per horse.
Picadero 11,3 x 11,3 m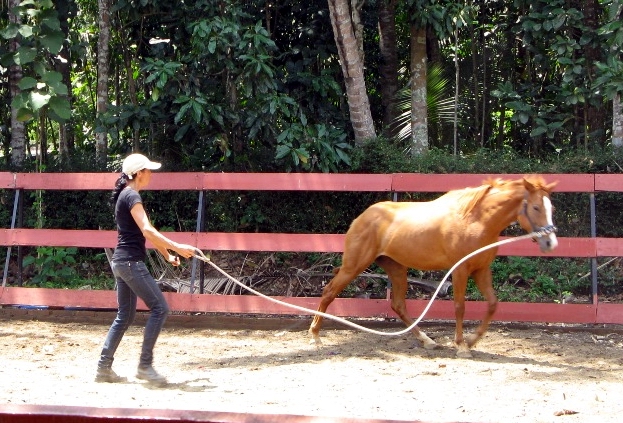 The Picadero is a Spanish concept, among others used by Klaus Ferdinand Hempfling for training. Its size is perfect for at liberty work and lungeing, to supple the horse, as it has to bend in the corners. We broke down our round pen, after we found that - especially the young - horses feel trapped in a round area without a beginning or end.
Arena 20 x 60 meter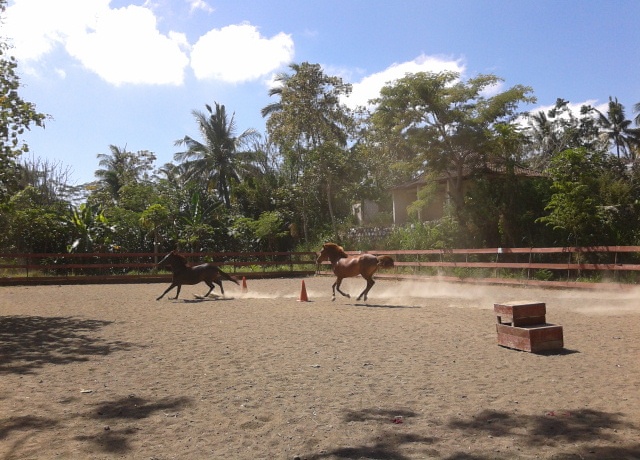 Our spacious arena, with the measurements of an international ring, is perfect for at liberty work, natural riding & jumping. Riding between the green 'kebun' or gardens with a variety of plants and trees, such as coffee and coconut trees, is a real pleasure!
Tack Room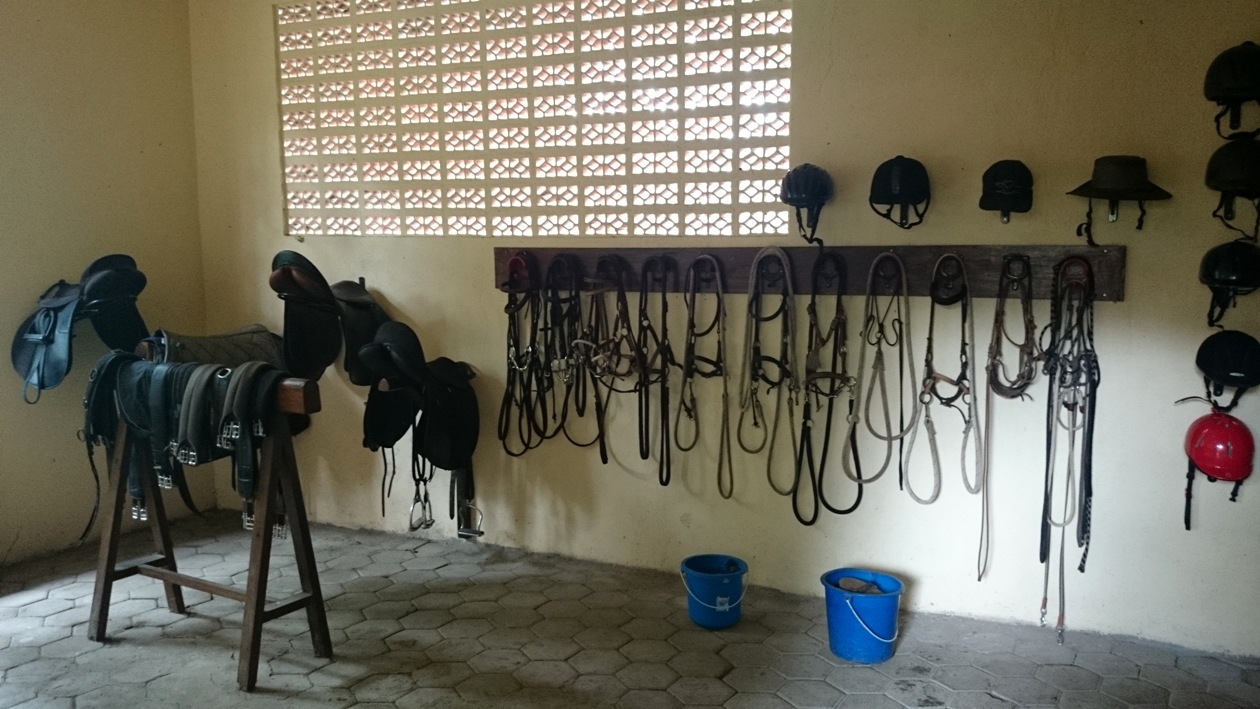 In our tack room all tack - saddles, halters, bridles, rope halters, lead ropes, grooming tack - and daily necessities are stored in an orderly manner.
Shelters


Spacious shelters are provided to hide from the heat, rain or wind. You will find however that most horses prefer to live outside, rain or shine.
Pasture & Paddocks 12500 m2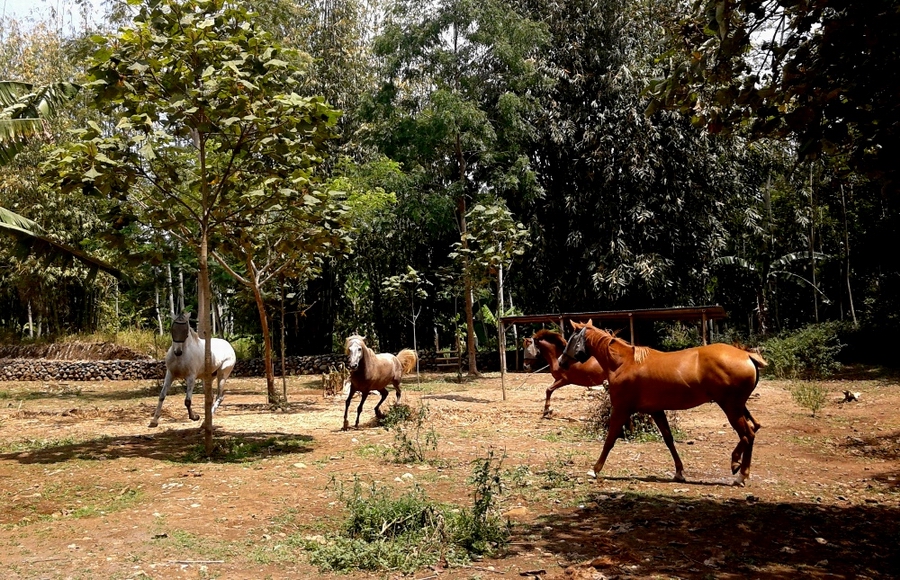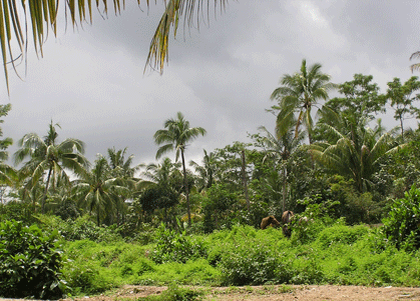 Our 12500 m2 of pasture and paddocks is divided into three parts for sequential grazing and managing of the land. Because our horses live outside 24/7 they are used to falling leaves and branches of trees and therefore are not spooky; they are used to walk and run on uneven stony ground with holes and bumps which makes them brave and sure-footed!
Nursery Stall


For cases of illness or injuries we have one box ready, but in practice we rarely use it. Also in cases of injury and sickness it is best not to confine a horse but give it space to move about - horses, if given the opportunity, know best how to heal themselves.
Parking Lot